Although those born today have the Aquarius sign, we'll start off our birthday list with a Scorpio. Actor Andrew Robinson turns 72 today and is best-known for his role as serial killer Scorpio in the classic Clint Eastwood movie Dirty Harry. Robinson also guested on TV classics Bonanza, Kung Fu and The Rookies. He later had roles on the daytime drama Ryan's Hope and Star Trek: Deep Space 9.
Others celebrating Valentine's Day birthdays: film and TV star Andrew Prine (appeared on Baretta, Dr. Kildare, Gunsmoke, The Virginian) is 78, Brady Bunch mom and former Wesson Oil spokeswoman Florence Henderson turns 80 and TV personality Hugh Downs is 93. Downs was the announcer for Jack Paar's Tonight Show, longtime host of The Today Show and later the primetime newsmagazine 20/20. He also hosted the daytime game show Concentration, syndicated talk show Not for Women Only and the PBS senior series Over Easy. Quite an impressive career!
Today was also the birthday of many classic TV friends who are no longer with us, including Mel Allen (longtime New York Yankees announcer, host of This Week in Baseball), Stuart Erwin (star of 1950s comedy The Stu Erwin Show, guested on Big Valley and Perry Mason), Brian Kelly (Flipper), Vic Morrow (Combat!, father of actress Jennifer Jason Leigh), Edward Platt (Get Smart) and Thelma Ritter. A veteran stage and film actress, Ritter appeared on Alfred Hitchcock Presents and Wagon Train. She also had a memorable role in the classic Christmas movie Miracle on 34th Street.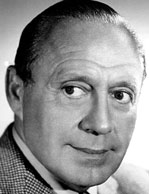 Benjamin Kubelsky was also born this day. The multi-talented comedian appeared on vaudeville, radio, film and television and was also an accomplished violinist. His radio and TV programs ran for more than three decades and continue to air in reruns to this day. We know Benjamin better by his stage name, Jack Benny. He would have been 39 years old today 🙂
February 14 is also the day we lost several classic TV contributors. Richard J. Collins was a producer of Bonanza, The Family Holvak and later, Matlock. Playwright-actor Michael V. Gazzo appeared in The Godfather Part II movie and also guested on TV classics The Defenders, Fantasy Island, Vega$ and Welcome Back Kotter.